17:31
This is a story about a man and a pair of shoes. A pair of shoes, that at the time of purchase seemed to the man like any other ordinary pair of shoes. Little did he know, what kind of adventures the shoes would lead the man into, or the depths their relationship would eventually reach.
Mein Name Ist Parker
Our story begins in Berlin, more specifically in the Mephisto Shoes store on Kurfürstendamm, in the part of the German capital known as Charlottenburg, some time in the early 2010's. Our hero picks up a pair of Mephisto Allrounder Parker shoes. Because they look and feel nice.
Today, years later, these same shoes are still our hero's most favourite shoes in the whole world. His greatest fear, each time he wears them, is that they will break, and he can wear them no longer. Thus he seldom wears them, to keep them from falling apart, which is sad, because the effect is the same as them having fallen apart: our hero is shoeless.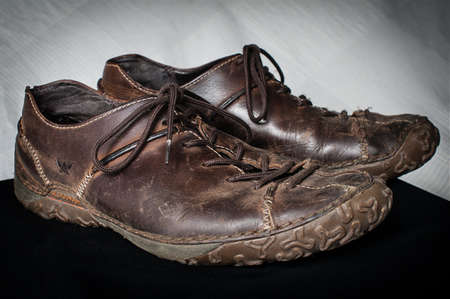 As the picture maybe shows, despite its mediocrity, the shoes are well-worn, having accompanied our hero for many, many miles in several countries. They have attended many parties, and been the sole of nights in bars on many occasions. They are also the shoe of choice when a pair of conveniently packable shoes is called for. Their compact size really makes them ideal for the purpose.
One of our hero's greatest regrets in life is not buying several pairs of these shoes when he had the chance.
Dwindling Quality
Fast forward some years, until 2013 to be exact, and several pairs of Allrounder shoes. Our hero is once more shopping for shoes, and to his delight has spotted a very near revival of his favourite shoe. This time, not wanting to repeat his earlier mistake, our hero buys two pairs at once.
And the shoes are good! They are nearly as conveniently sized as his all-time favourite, just as comfortable, and they even look pleasant to the eye. Sadly, neither of the two pairs is no longer with our hero.
The first pair suffered a torn seam almost immediately and was returned to the factory for a check up, never to be seen again, to our hero's great disappointment. Being wiser, when a shoe in the second pair tore a seam, our hero took it to his local cobbler for repair. And the cobbler did a good job and the shoes were whole again, as was our hero.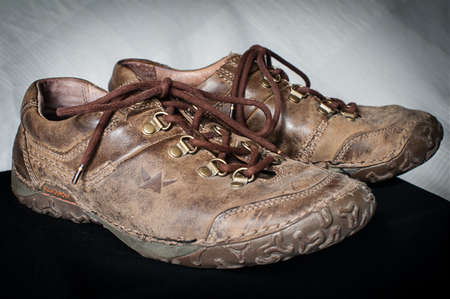 As the picture maybe shows, despite its mediocrity, as time went on, our hero became good friends with his local cobbler, due to his frequent visits when seam after seam eventually let go in his near-all-time-favourite shoes. Eventually, to our hero's great dismay, this unfortunate pair of shoes suffered a tear which rendered them irreparable.
Once more our hero was left caring for his only pair of his all-time favourite pair of shoes.
A Big Mistake
Despite having suffered great disappointment, our hero, being the loyal kind, still decided to invest yet once more into a pair of Allrounder shoes. After all, they had in general given more pleasure than caused displeasure.
This time, however, he decided to try a pair which weren't all leather. As is customary when buying shoes, he bought a pair that were just a bit not-quite-but-very-nearly comfortable. The adage being shoes should be worn comfortable, not bought. This decision would haunt our hero later on, when after tens and tens of agonising hours later, the pair of shoes are still undistinguishable from medieval instruments of torture.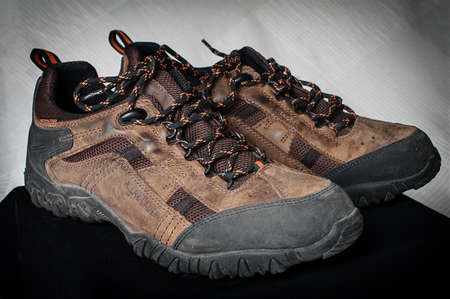 As the picture maybe shows, despite its mediocrity, the shoes are still looking nearly as new. Our hero believes this is not likely to change any time soon, as wearing them is not likely to inspire loving verse and song for a long time.
The Bane of Constant Renewal
It's understandable that shoemakers feel the need to constantly create new designs, even our hero can understand the sentiment, but he still feels it is ridiculous: The Parker was already perfect, and improving perfection can only result in an inferior outcome. Instead it should have been made a staple, a permanent model.
If there is a moral to this story, it is to act when you have the opportunity. Like everything else in this world, opportunities are by nature fleeting, and you might not have another one.
In the end our hero was lucky. Living in the internet age, he found a pair of correct size Allrounder Parkers for sale in a far-away land.
Sorry, the comment form is closed at this time.