18:09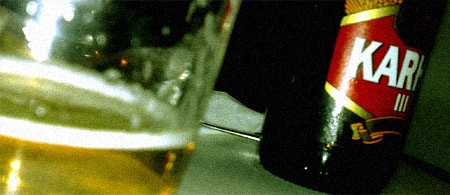 Noin niin kuin perinteisesti miittien jälkeen on tapana rustailla jotain aiheesta. Mitäpä eilisestä nyt sitten sanoisi? Oleellisinta lienee ihan alkuun todeta että oli kivaa, kuten perinteisesti on tapana olla. Tänään on hieman väsyttänyt, joka ikävä kyllä myöskin tuntuu muodostuneen perinteeksi.
Jotenkin minä onnistuin eilen jämähtämään paikalleni heti saapumishetkestäni, joten en juurikaan tavannut uusia kasvoja, eivätkä uudet kasvot minua joka tietysti on paljon paljon tärkeämpää, joillekuille ehdin kuitenkin lyhyesti esittäytyä. Olisi kuitenkin pitänyt olla tässä suhteessa selvästi aktiivisempi, sillä en ole tänään saanut yhtään uutta tilaajaa, kuten perinteisesti olen tavannut saada.
Ehkäpä pitäisi soveltaa Facebook:in monille tuttua käyttöliittymää ja lisätä omaan rintaani Add to friends -nappi, niin minä olisin jo ikään kuin ottanut ensi askeleen tutustumisessa ja loput tapahtuisi itsestään. Ehkä jo ensi kerralla.
Summa summarum, kiitos hyvästä seurasta Marinadi, Kari (eikun Val "Visa Kopu" Kilmer), Kervå, Hilpari, Sami, Marjut, Schizo, Janne, Lauri, Leena, Elma, Kaura, Kriisi, Turisti, Visukinttu, Junakohtaus ja kaikille teille muille jotka olitte paikalla ja teitte miitistä miitin. Niin ja toinen erityiskiitos kuuluu järjestäneille tahoille, Marille ja Schizolle.
Linkkejä en kerää koska Sun Äitis teki sen taas. Eli kaikki on aivan kuten ennenkin, mikä on turvallista, koska se ehkäisee perhosefektiä.
Ensi kertaan, kuomat.
Sorry, the comment form is closed at this time.