23:15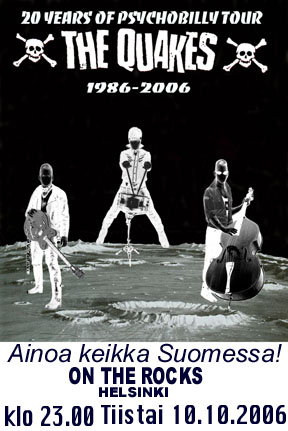 Minä sitten pidän tästä kaupungista. Hyvää livemusiikkia on tarjolla juurikin niin paljon kuin jaksaa käydä kuuntelemassa. Lähestulkoon ainakin.
Sääli vain kun nämä keikat on turhan usein keskellä viikkoa. Se vähän haittaa palkansaajan liikkumista yössä. Sekin huono puoli siinä on, että kavereita on sitäkin hankalampaa tuottaa kauempaa keikkaseuraksi ja paikkakunnalta en ole vielä samanhenkisiin tutustunut.
Mutta ei saa vaipua synkkyyteen. Huomenna pistetään taas tukka mutkalle, spittarit kohti On the Rocks:ia ja naatitaan. Yeah, baby, yeah!
Edit 11.10. Oli aivan loistava keikka. Tosin yleisöä oli harmillisen vähän, mutta olipahan tilaa. Bändikin aloitti aikataulun mukaisesti eikä ilta siis venähtänyt liikoja aamun herätystä ajatellen. Olisin jopa voinut ehtiä viimeiseen bussiin, mutta tyydyin kuitenkin katselemaan sen loittonevia takavaloja, tasatessani sprintistä kiihtynyttä hengitystäni. Taksissa (minulla) kävi tuuri, kun kuljettaja huomasi laittaa mittarin päälle vasta Munkkiniemessä ja pääsin alle kympillä kotiin. Kaiken kaikkiaan hyvä ilta. Mjoo'o.
Sorry, the comment form is closed at this time.