12:59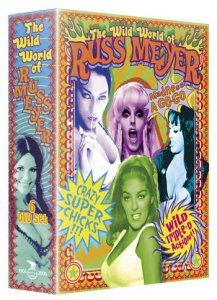 Russ Meyerin tuotannosta on julkaistu kuuden levyn DVD-boksi. Boksi sisältää elokuvat Vixen, SuperVixens, Mondo Topless, Faster Pussycat! Kill! Kill!, Beneath The Valley Of The Ultravixens ja Up!.
Valmistaudu hämmästymään kun Russ Meyer kirjoittaa biologian oppikirjat uusiksi. Tarjolla on huikea valikoima fantastisia supernaisia – ja tietysti valtavia rintoja
Muistan kuinka huvittuneena, mutta samalla ruudun eteen naulittuna, näitä pätkiä tuijotin silloin kun Nelonen Meyerin tuotannolla eetteriä rikasti.
Näissä esitetyille pomppiville rantapalloille ei pärjää edes Baywatch.
Vihdoinkin kokoelma jonka hankkimista joutuu harkitsemaan ihan vakavissaan. Eikä se ole edes hinnalla pilattu.
(Lähde: Mesta.net
Sorry, the comment form is closed at this time.