09:11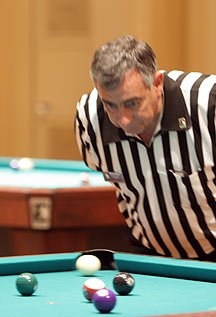 Olin olevinani ovela, kun menin eilen ajoissa nukkumaan, tarkoituksena herätä klo. 0:30 katsomaan lähetystä IPT (International Pool Tour):n turnauksesta. Heräsinhän minä, mutta mitäpä muutakaan voi tapahtua kun jää lojumaan pää tyynylle, katse tosin suunnattuna kuvaruutua kohti, kuin uudelleen nukahtaminen. En siis loppujen lopuksi nähnyt koko kaksituntisesta lähetyksestä kuin noin viisitoista minuuttia.
Aamulla kuitenkin harmitti vähän vähemmän, tarkistettuani ottelutuloksista miten suomalaiset olivat pärjänneet.
Immonen oli selvästikin löytänyt elementtinsä ja oli voittanut kaikki omat pelinsä. Juva omistaan kolme, kuin myös Lohtander.
Lohtanderin otteluista olisin erittäin mielelläni nähnyt yhden, nimittäin Sigeliä vastaan pelatun ottelun, jossa Marko vei päänahan numeroin 8-6. Hieno suoritus. Olen nähnyt miten Sigel pelaa kun pallot pyörii hänen kannaltaan suosiollisesti. Jokin analogia höyryjyrästä tulee mieleen.
bq.. Mike "The Mouth" Sigel suffered his second loss of the day when Marko Lohtander of Finland defeated him 8-6.
(Mixed Emotions Dominate After Third Round
Mike Sigel did not advance to Wednesday's rounds. He had a chance, but it came down to between him and Marko Lohtander.
(Playing Field Cut in Half Heading into Day 3
Immosen otteluista taaseen olisin mielelläni nähnyt kun Ronnie O'Sullivan nöyrtyi luvuin 8-7.
bq.. Snooker star Ronnie O'Sullivan […] lost his hill-hill match against Mika Immonen
(Playing Field Cut in Half Heading into Day 3
Mutta ei noita suorituksia toistensa yli pidä nostaa. Hienoja suorituksia kaikki ja toivon mukaan voitokas linja myös jatkuu.
En tiedä miten jatkopaikat ratkaistaan, mutta Immosella tuskin voi olla syytä huoleen puhtaalla tilillään. Lohtanderin osalta sanoisin jatkopaikan olevan myös hyvissä kantimissa, sillä hänen ryhmässään hänellä on kolmanneksi eniten voitettuja otteluita ja käsittääkseni näistä ryhmistä jatkaa kolme.
Juvan ryhmässä on neljä pelaajaa kolmella otteluvoitolla, Juva mukaan lukien. Tässä tapauksessa uskoisin että pelivoitot ratkaisevat, jossa tapauksessa Juvalla on kädessään hyvät kortit. Siinäkin tapauksessa että pelivoittoprosentti ratkaisee kohtalon saa Markus antaa matkalaukkunsa pölyyntyä, se kun on ryhmän toiseksi paras.
Tänään kyllä valvon vaikka väkisin. Lähetys alkaa Eurosport-kanavalla klo. 1:00 Suomen aikaa, tai klo. 22:30 niille kelle näkyy Eurosport 2 (ja se lähetys on vielä pidempikin, prkl. Epäreilua!). Aiheesta lisää (viimeistään) huomenissa.
Päivitys 11:58
SBiL:n kirjoitus varmisti epäilykseni siitä että kaikki suomalaispelaajat ovat jatkossa. Yeah!
Myös tämän päivän ryhmät, josta selviävät tämän päivän vastustajat, on julkaistu IPT (International Pool Tour):n sivustolla:
Lohtanderin ryhmässä komeilee kaksikin kovaa nimeä; Efren Reyes ja Earl Strickland. Juvan ryhmässä Nick van der Berg. Varmasti siellä oli muitakin, mutta nämä ovat minulle tuttuja pelaajia.
Sorry, the comment form is closed at this time.