01:46
Menin kun meninkin keikalle, vaikken ketään mukaan saanutkaan. Tosin siinä lienee syy itsessänikin, kun peräti yhdeltä ihmiseltä kyselin mielenkiintoa mukaan lähtemiseen. Mutta kyllä kannatti lähteä.
Doctor's Orderin keikasta leijonanosa jäi näkemättä, mutta silti siinä niiden viiden kuuden biisin aikana ehti lämmetä. Ei sille vaan voi mitään että kunnon ränttätänttä pistää veren kiertämään. Niin se vain on. Ymmärsin sentään pysyä pois tanssilattialta.
Sitten olikin illan pääesiintyjän vuoro.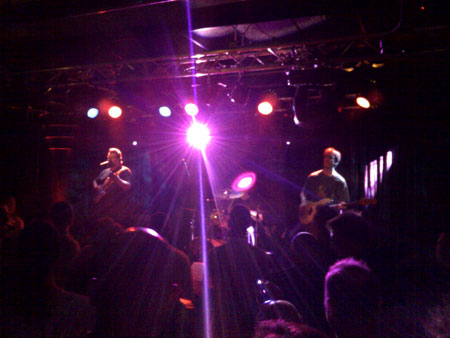 Omar and the Howlers ei pettänyt tälläkään kertaa. Siinä on mies paikallaan. Mies joka osaa rankaista Stratocasteriaan oikeilla otteilla. Kitara lauloi, itki, parkui, rääkyi. Rokkasi ja rollasi.
Sitä vaan osaa kerta toisensa jälkeen ihailla miten niin yksinkertaisesta musiikista kun bluesista voi saada niin hienoa. Suoraan sanoen pistää kusemaan hunajaa. Tosin Omarin repertuaari nyt onkin melko laaja, rootsista rock'n'rolliin.
Sääli vain etten ehtinyt kuuntelemaan keikkaa loppuun. Taksilla kun en halunnut kulkea piti ehtiä bussiin. Toisaalta ihan hyvä, onhan huomenna työpäivä.
Hyvää yötä, kullanmurut.
Sorry, the comment form is closed at this time.